"The Mark of Quality"
Custom Built & Reupholstered Furniture Services in Huntington Beach, CA
Burger Quality Upholstery, Inc., a family-owned-and-operated company in Huntington Beach, California has been providing custom-made furniture and reupholstery services since 1963. Our experience, personal service, and commitment to quality distinguish us from the rest in producing distinctive, made-to-order furniture that is both comfortable and beautiful.
It's All In The Details
Burger Quality Upholstery's specialty lies in tailoring each piece to the customer's specifications and needs. Our furniture is custom-made without use of a pre-existing pattern, ensuring the one-of-a-kind result that truly defines a higher degree of "customization". Burger Quality Upholstery has developed a reputation of excellent quality and attention to detail, as well as outstanding customer service and relations you would expect of a company run by someone who loves the work they do, as well as the people they work with.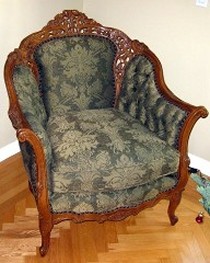 Our Services Include…
Custom-Made Furniture
Quality Reupholstery Services
Antique Restoration
Upholstered Headboards & Beds
Decorative Pillows
Window Seat Cushions
Exterior/Patio Cushions
Slipcovers